50 Year Anniversary

Welcome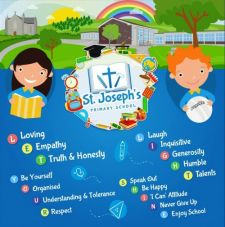 Céad Míle Fáilte Romhat to St. Joseph's Primary School, Meigh, situated in the parish of Upper Killeavy, nestled in the foothills of South Armagh below the mystical Slieve Gullion, designated as an area of outstanding natural beauty.
The local community is very proud of our school and likewise we are very proud of our community. We are a busy but friendly and happy school. This website aims to give a 'snapshot' of school life as well as providing regular information for both parents and pupils.
We hope you enjoy your visit to our website. Please contact the school directly should you have any queries, questions or suggestions.
Thank you for visiting.
G. Trainor
Principal
Primary 1 Admissions September 2022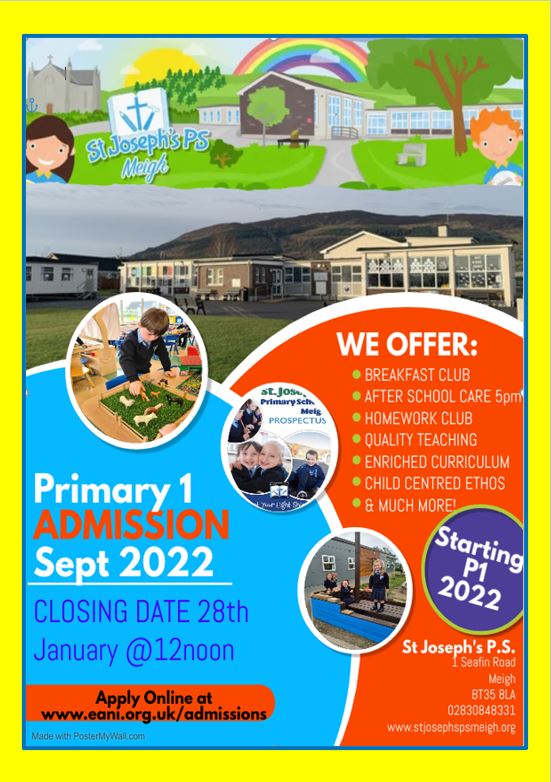 Applications for places for September 2022 will open on 10th January 2022 and will close on 28th January 2022.
To find out about how to apply for a place in either setting visit: www.eani.org.uk/admissions
https://www.eani.org.uk/parents/admissions/admissions-videos-and-guidance
Unfortunately due to the Covid restrictions, we won't have any open days this year. We can provide an individual tour by prior appointment. Contact the office to arrange.
Latest Photographs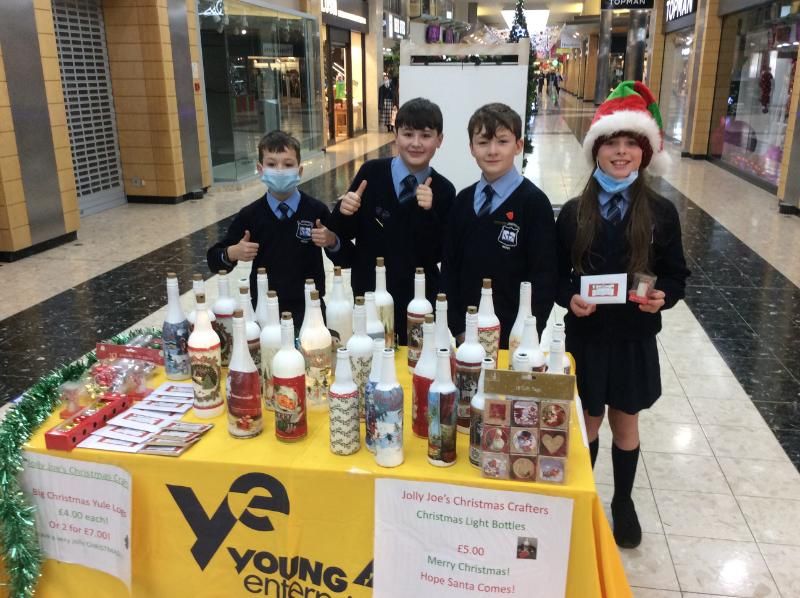 Upcoming Events...
Sunday, 23rd January 2022
Catholic Schools Week (theme: Living Life to the Full)
Monday, 24th January 2022
Catholic Schools Week (theme: Living Life to the Full)
After School Gaelic (Burns) (P1-P3@2-3pm; P4-P7@3-4pm)
Tuesday, 25th January 2022
Catholic Schools Week (theme: Living Life to the Full)
Wednesday, 26th January 2022
Catholic Schools Week (theme: Living Life to the Full)
Thursday, 27th January 2022
Spanish Tuition (P1-P7 )
Catholic Schools Week (theme: Living Life to the Full)
After School Multi Sports (Burns) (P1-3@2-3pm; P4-7@ 3-4pm)
Friday, 28th January 2022
Catholic Schools Week (theme: Living Life to the Full)
Saturday, 29th January 2022
Catholic Schools Week (theme: Living Life to the Full)
Sunday, 30th January 2022
Catholic Schools Week (theme: Living Life to the Full)
Monday, 31st January 2022
National Storytelling Week
After School Gaelic (Burns) (P1-P3@2-3pm; P4-P7@3-4pm)
Tuesday, 1st February 2022
National Storytelling Week
Wednesday, 2nd February 2022
National Storytelling Week
Thursday, 3rd February 2022
Spanish Tuition (P1-P7 )
National Storytelling Week
After School Multi Sports (Burns) (P1-3@2-3pm; P4-7@ 3-4pm)
St Joseph's Primary School 1 Seafin Road Killeavy Newry County Down BT35 8LA | Telephone: 028 3084 8331